Pribilof Seabird Youth Camp
St. Paul Island: 17-21 July, with a community open-house on July 22
Seabird Camp 2017 is a special joint-island camp, with students from St. George Island and the Commander Islands coming to join the students on St. Paul. There will also be a Youth Conservation Corps (YCC) team on the island, and a visit by the Alaska Maritime National Wildlife Refuge research vessel, the R/V Tiglax. It's going to be a full week!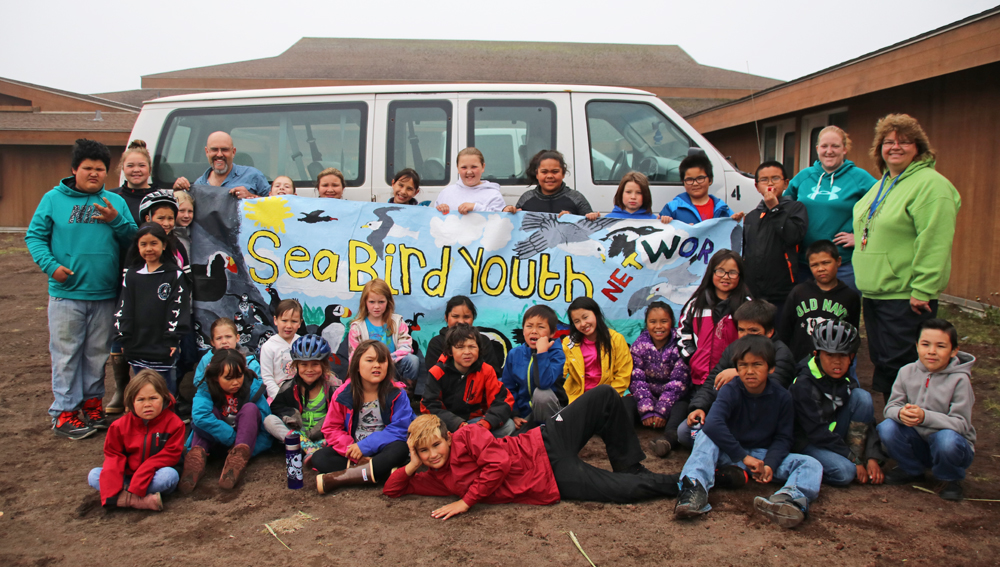 The camp will be hosted by the Aleut Community of St. Paul Island, and supported by the Pribilof Island School District and AMNWR. Many thanks to our funders: The US Fish and Wildlife Service, The National Parks Service, Conoco Phillips, and Aleutian Pribilof Island Community Development Association (APICDA). And, to the Pribilof School District, St. Paul Tribal Government, City of St. Paul, Trident Seafood, the University of Alaska, Anchorage (UAA), and the Tanadgusix Corporation for their time commitment and crucial in-kind support.
Students will:
Learn the basics about seabird biology. This year we'll be focusing on seabird survival.
Spend time in the field. Older students will join a research project on board the R/V Tiglax, and middle-school students will be helping the Refuge collect least auklet diet samples. All camp participants will spend time on the bird cliffs, honing down identification skills and collecting reproductive and population monitoring data.
Conduct seabird dissections, and learn about the problem of plastic ingestion and contamination.
Learn about the Coastal Observation and Seabird Survey Team's (COASST) efforts on the Pribilof Islands.
Continue to build on wildlife photography skills.
Learn Aleut language and the cultural use of seabirds through hands-on cooking lessons, language workshops, and a student-led theatre production at the community open-house on July 22nd.
Build friendships and cultural connections with the students living on Bering Island in the Commanders, Russia.
The camp is designed to provide hands-on scientific experience and new skills, encourage critical thinking, increase understanding about local resources, and foster creative growth.
Follow camp updates on our blog