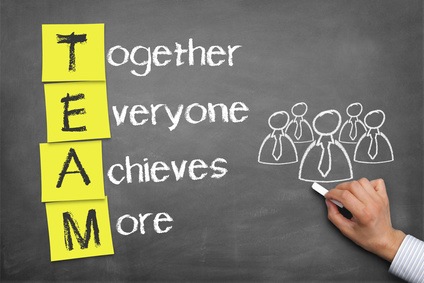 Instead of working independently and alone, it is more and more common for a group of scientists to work together to figure out answers to a question they are all interested in. Working together on a project like this is also called 'collaboration'. Like a carefully chosen sports team, researchers that work together usually have different skills, and together they can answer much more complicated puzzles than a single scientist who likely only specializes on one subject.
This kind of collaboration happens in many other jobs. For example, if you were interested in starting a restaurant business, maybe you would try to gather a team that would include a hot-shot chef, someone that was savvy with finances, maybe an interior designer to help make a beautiful dining place, and probably someone that was good at advertising the new restaurant. Are there any other skills you'd need in your team?
When you work together on a group project in school, like making a poster, you are also collaborating… maybe someone is good at art work, maybe someone is better at seeing the big-picture or has more confidence in communicating your poster verbally to class-mates. By working together you can produce a much better product than any one of you as an individual.  Have you collaborated on any projects this week?
The Red-legged Kittiwake Behavior Project is a good example of a collaborative research project, with each member of the team providing different areas of expertise and understanding.
We'll learn more about the different roles the team members play as we follow the study over the next couple of years, but here is a brief introduction:
Rosana Paredes: Rosana is a Research Affiliated Faculty with the Department of Fisheries and Wildlife at Oregon State University and the lead investigator on this project. Dr. Paredes' interest in the behavior ecology and conservation of seabirds began in Peru where she co-developed a long-term monitoring program for endangered Humboldt penguins. Since then, she has investigated the breeding and foraging ecology of several species of seabirds in the Pacific, Atlantic, and recently in the Bering Sea, to help understand causes of population declines and ecosystem changes. She loves remote field work and working with others who share her passion for the natural world.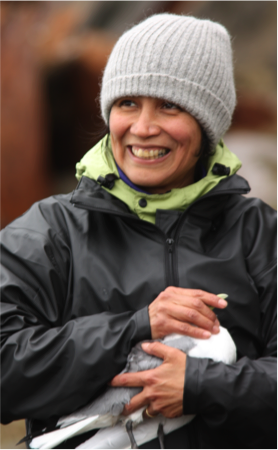 Scott Shaffer: Scott was born and raised in San Diego California. He attended San Diego State University and the University of California Santa Cruz. Scott's background is the physiological ecology of seabirds, and his role in the kittiwake project is scientific advising. Scott has been studying seabirds in the wild for 15 years including albatrosses, boobies, gulls, and penguins.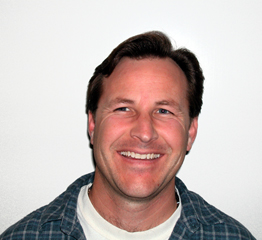 Abram Fleishman: Abram received a B.A. in Marine Studies in 2008 from Prescott College.  After graduation he was awarded a 3-year Research and Conservation Fellowship focusing on waterbirds and coastal conservation at the Kino Bay Center for Cultural and Ecological Studies in Bahía Kino, Mexico. While working in Mexico, Abram fell in love with seabirds and became fascinated with their ability to thrive in the marine environment.  He has worked at seabird colonies in Alaska, Hawaii, Mexico, and California. Abram is going to be beginning a Masters of Science at San Jose State University in 2015 focusing on the effects of mercury contamination on red-legged kittiwake foraging ecology and reproductive success.  He will be a key member of the field team on St. George.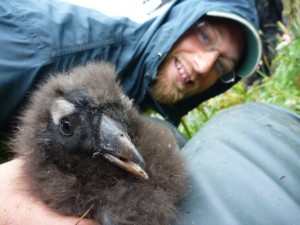 Rachael Orben: Rachael was born and raised inland in Springtown Pennsylvania. After graduating from Cornell University she was a volunteer research assistant with the Alaska Maritime National Wildlife Refuge and spent part of a summer on East Amatuli Island where she fell in love with seabirds and remote islands. Since then Rachael has worked with seabirds at colonies in the Pribilof Islands, western Aleutians (Buldir), Kodiak, Antarctica, Greenland, the Falkland Islands, and the New Zealand sub Antarctic [she also loves fur seals and sea lions]. Rachael recently completed my PhD at the University of California Santa Cruz where she studied the wintering foraging ecology of kittiwakes and murres from the Pribilof Islands. Now she is a Postdoctoral Scholar at Hatfield Marine Science Center in Oregon. Rachael will be leading the field-work, coordinating logistics, and leading data analysis efforts in the St. George kittiwake study, and will also be the member of the team that conducts the Skype lessons with students on St. Paul and St. George.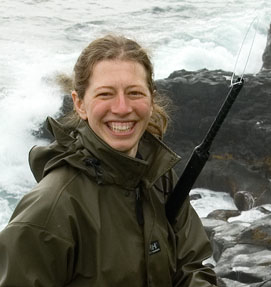 Alexander (Sasha) Kitaysky: Sasha was born in Russia, and completed his masters at Irkutsk in Russia. He completed his PhD at the University of California, Irvine, and is now a Professor of Integrative Physiology at the University of Alaska, Fairbanks. Sasha's current main research focus is trying to understand how different populations of animals respond to environmental change. Sasha will be leading the study of the nutritional stress response (corticosterone) of the kittiwakes and trying to understand the relationship between the age of an individual and it's behavior.