We had amazing turnout of over 40 students at Day 1 of Seabird Youth Network's 2017 Seabird Camp! The afternoon started with a glance at what to expect this week, a fun Bird Beak Buffet exercise led by Ram Papish, where students practiced "feeding" using different shaped bird "beaks" and various types of "prey". We also learned, from graphing the results of this exercise, that it is often hard to distinguish prey from marine pollution.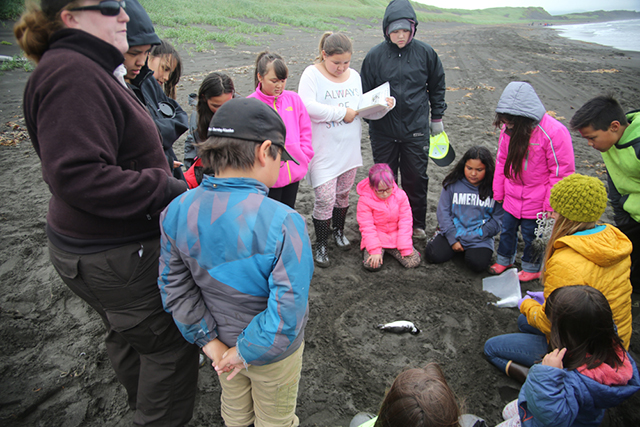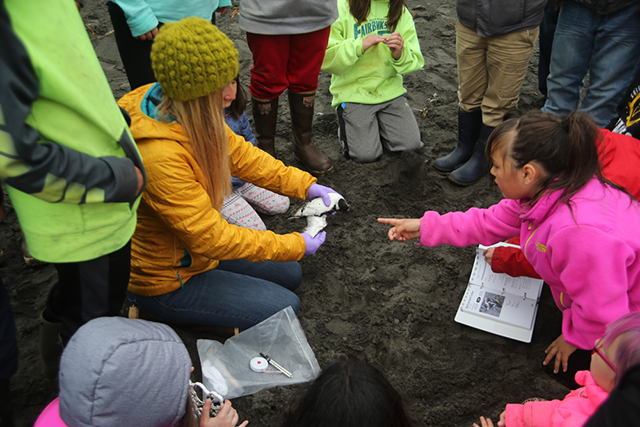 Tonia Kushin then presented a mini lesson on conservation and threats to seabirds which was a nice lead in to our guest presenters, Lauren Divine and Veronica Padula of the St. Paul Ecosystem Conservation Office who taught us about the Coastal Observation and Seabird Survey Team (COASST) procedures and discussed how their office participates in that program. We then headed out to Lukanin Beach and walked along the beach, thankful that the all-day rain had stopped for our field trip! Conveniently, there were several washed ashore birds/ bird carcasses that the students were then able to measure and identify (okay, we 'planted' a few collected over the winter and early summer). One of the finds was an Ancient Murrelet, a bird that is not common around St. Paul Island. It took a lot of careful work to correctly identify this seabird. We had a chance to start work on our special kittiwake mobiles to finish off the afternoon session.
The evening session consisted of a beach campfire, roasted hot dogs, smores, and some water fun while we waited to greet the USFWS/AMNWR's research vessel Tiglax that arrived with the students visiting camp from the Commander Islands and the YCC crew who will continue their work here at St. Paul. When the vessel arrived late in the evening we were able to greet it with banners that we had been preparing all week. One said "Welcome" in English, the other said "Dobro Pozhalovat" which means welcome in Russian!