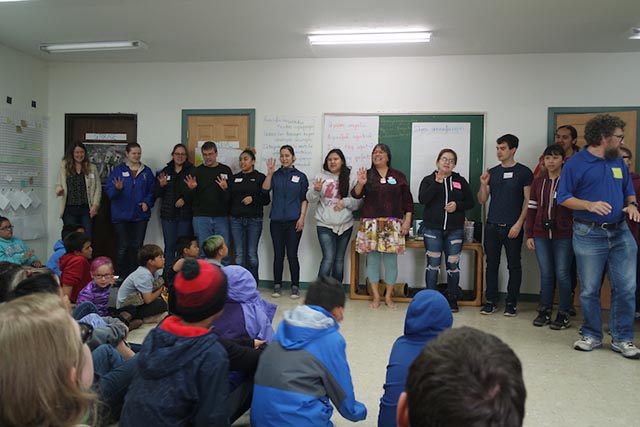 Our Commander Island friends had a fun morning with Sasha and Artem playing basketball in the beautiful school gym.
Another incredible turn-out for camp, with 55 kids showing up at 1pm. The Unangam tunuu Speaking Listening Team (UTSLT) hosted us all, teaching some super-fun outdoor games, and following up with some group-singing. Thank you to this incredibly talented and passionate team.
Straight after, we grouped up for the annual Camp photo, then headed straight to the Rec Hall for the first run through of our Theatre Production. Characters were casted, and we heard the exciting plot for the first time.
After quick snacks we split into two teams. Cara came in, and showed the younger kids how to make a seal-skin decorated pencil can. They all ended up with a beautifully decorated container. Cara then showed the older students how to sew and make their own fur-seal pouch. We all worked on our red-legged kittiwake mobiles. Some birds were more fanciful than others!
There were multiple evening sessions offered. The U.S. Fish and Wildlife Service showed us how they use mist-nets to catch least auklets for diet samples. It was a beautiful evening, and fun to be out in the colony…. but we didn't catch any birds before we needed to be back in town by 9pm. A good lesson in the patience needed to be a field biologist! Ram took Brittney, Alexia, and Kayden on a photography trip, and the girls had a wonderful time getting close to puffins! The Unangam tunuu Speaking Listening Team hosted a second language workshop geared for older students, and included the Commander Island team. Thank you! And…back at school, Tonia assisted folk with finishing their t-shirts, mobiles, and seal-skin pouches.
Such a full, fun day! Thank you to everyone for making this happen.