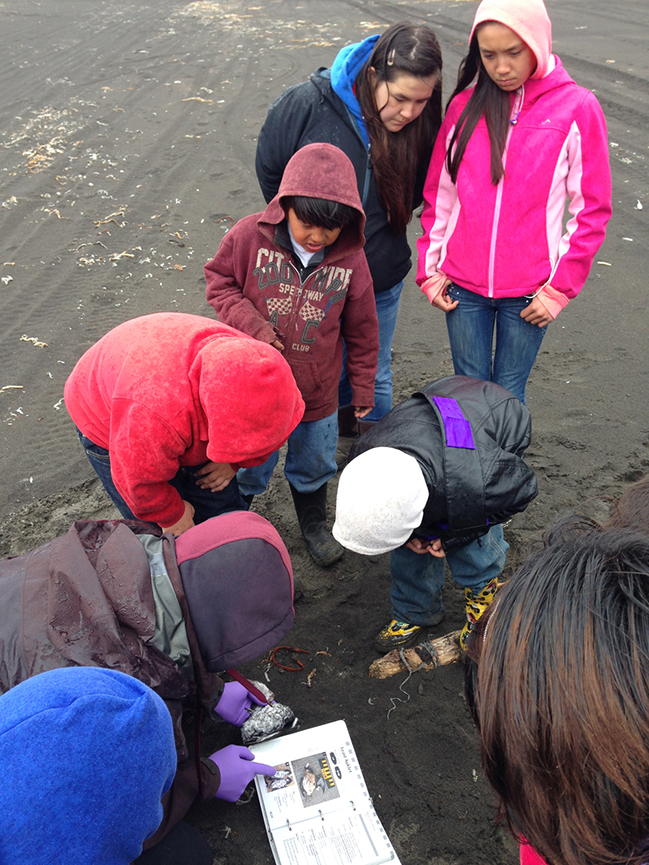 Another busy day at Seabird Camp!
The campers finished painting their bright blue or green murre eggs to start camp today. We will use them for games tomorrow.
Teams of campers used GPS units to navigate between waypoints all over the school yard.  At each waypoint they discovered an activity related to studying seabirds.  One station was the Seabird Survival game, in which each team learned about the trials and triumphs of being a seabird. Campers visited Zee as she baked with murre eggs and cooked kittiwake for everyone to eat.
Campers took a field trip to Ridgewall seabird nesting colonies.  Ryan, from U.S. Fish and Wildlife Service told them all about population counts and productivity.  The campers all helped Ryan out by counting seabirds on a couple plots using their tally clickers.
We also had a field trip to Lukanin Beach to do a COAAST (coastal observation and seabird survey team) survey with Paul and Dallas from the Tribe's ECO office.  We learned how and why COAAST collects data on beached birds to monitor marine ecosystem health.  We found, identified and tagged 2 Least Auklets.
We ended the session with Elders Zee and Greg at the Rec Center to eat traditional Aluet foods.
Later in the evening some of the campers worked on our Marine Debris Trash sculpture, getting the armature in place and adding some details to the structure.  Still lots to do on this project!