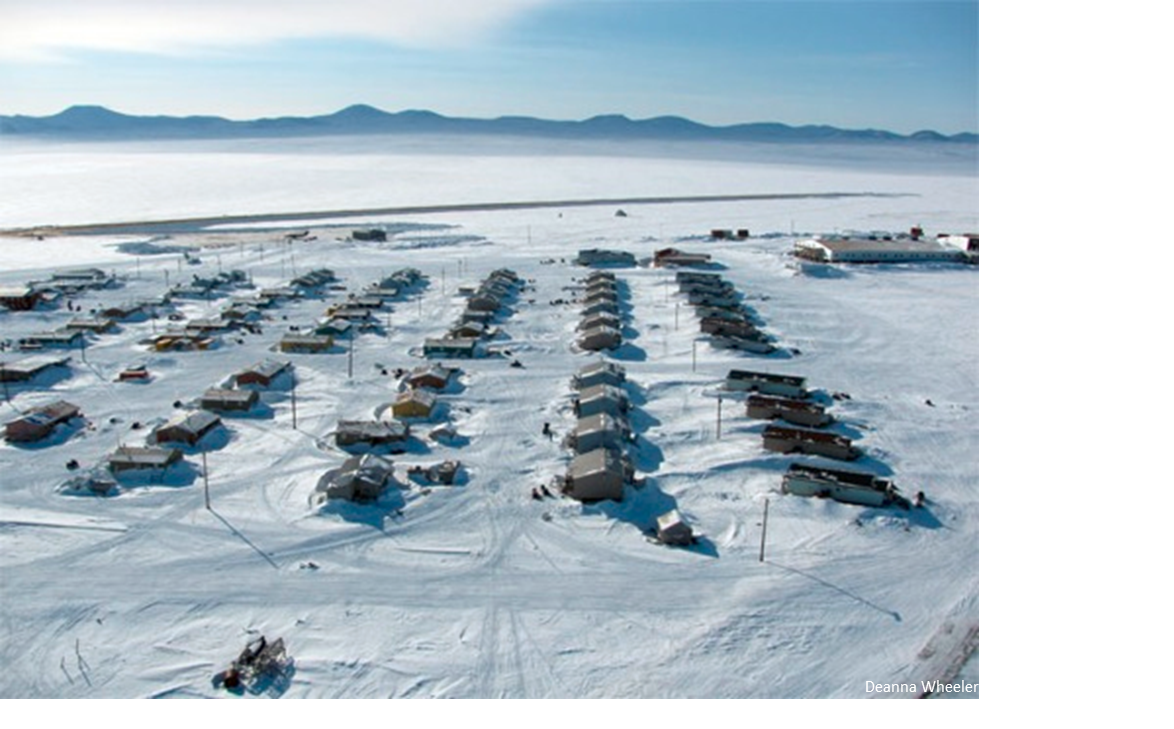 St. Lawrence Island
03 May 2016, by Education
in
Biologists from the University of Alaska, Fairbanks (UAF) and Tokyo, Japan, are starting a new seabird research project on St. Lawrence Island this summer. St. Lawrence Island (Central Siberian Yupik: Sivuqaq) is located west of mainland Alaska in the Bering Sea, just south of the Bering Strait. The island is about 90 miles (140 km) long and 8–22 miles (13–36 km) wide, and has two villages: Savoonga and Gambell. Most of the seabirds breeding on St. Lawrence also breed on the Pribilof Islands, and there are also many similarities between the aims of the St. Lawrence research project and the red-legged kittiwake project on St. George.
We're excited to learn about another Bering Sea Island, and hear what the St. Lawrence team will see and learn over the next few years. We also hope to get to know some of the students who live on the island. Here is an introduction from researcher Alexis Will (UAF):
Gearing Up.
While red-legged kittiwakes are spending their days finding food, socializing, and claiming their nest sites in preparation for the hard work of laying eggs and raising their young, scientists are also industriously preparing for the oncoming seabird breeding season.
A team of researchers located in Fairbanks, Alaska, and Tokyo, Japan, have been working hard this spring to prepare for a new research project starting this summer on St. Lawrence Island. In March they visited Savoonga (see photo above, taken by Deanna Wheeler) where they met with the Native Corporation and the Tribal Government to request permission to work on the island. It was a snowy, windy world, without a seabird to be seen.
Now, as the snow melts and the leaves begin to unfurl, the group is working to make sure they have the permits and gear they need to conduct their research. Bird bands must be ordered. A local guide will be hired. Bird bags, and paint, and rain gear, and data loggers, and vials, and centrifuges, and back packs…there is a long list of things that the researchers will need to make sure they have before boarding a plan and flying to the island.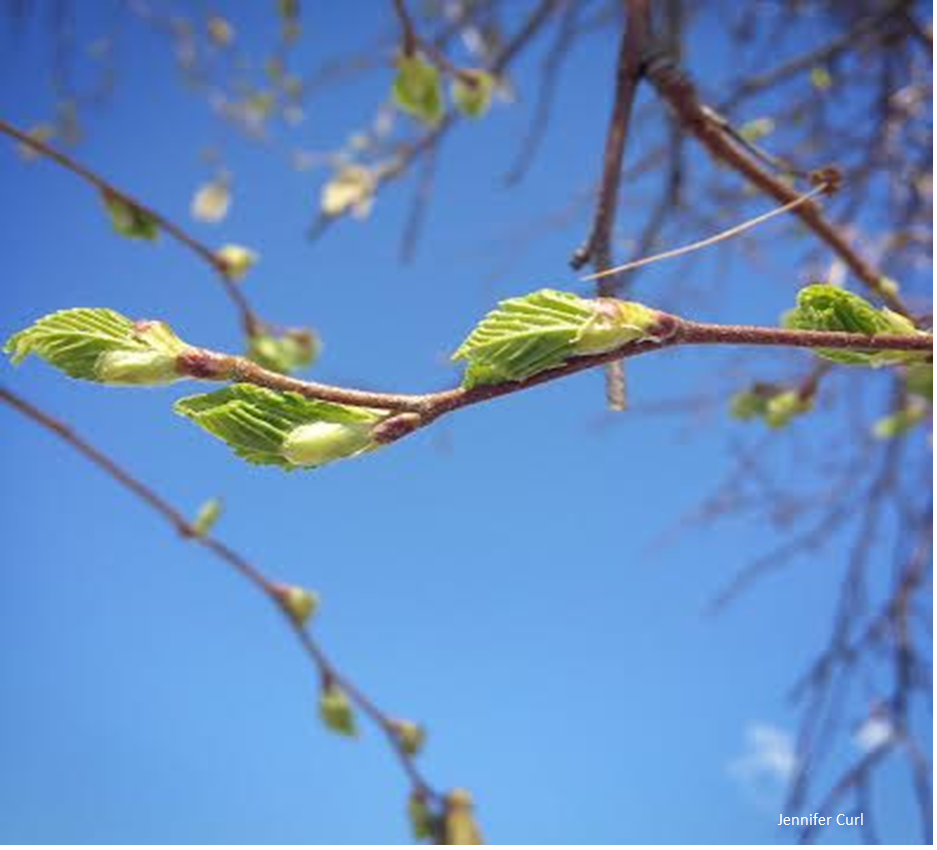 Green-up, by Jennifer Curl
Why St. Lawrence Island?
Dr. Alexander Kitaysky, Dr. Akinori Takahashi, Dr. Jean-Baptiste Thiebot, and Alexis Will are specifically interested in learning more about the seabirds on St. Lawrence Island because of the changes occurring in the Bering Sea. During the winter the amount of sea ice, and the length of time the sea ice stays, has decreased in the last few decades. Therefore, the seabirds using the northern Bering Sea may provide insight into the changes we could expect to see in the Arctic as winters become warmer. Where are seabirds going in the winter in relation to sea ice? How will less sea ice affect seabird populations? How will changes in the winter affect the ability of birds to find food in the summer?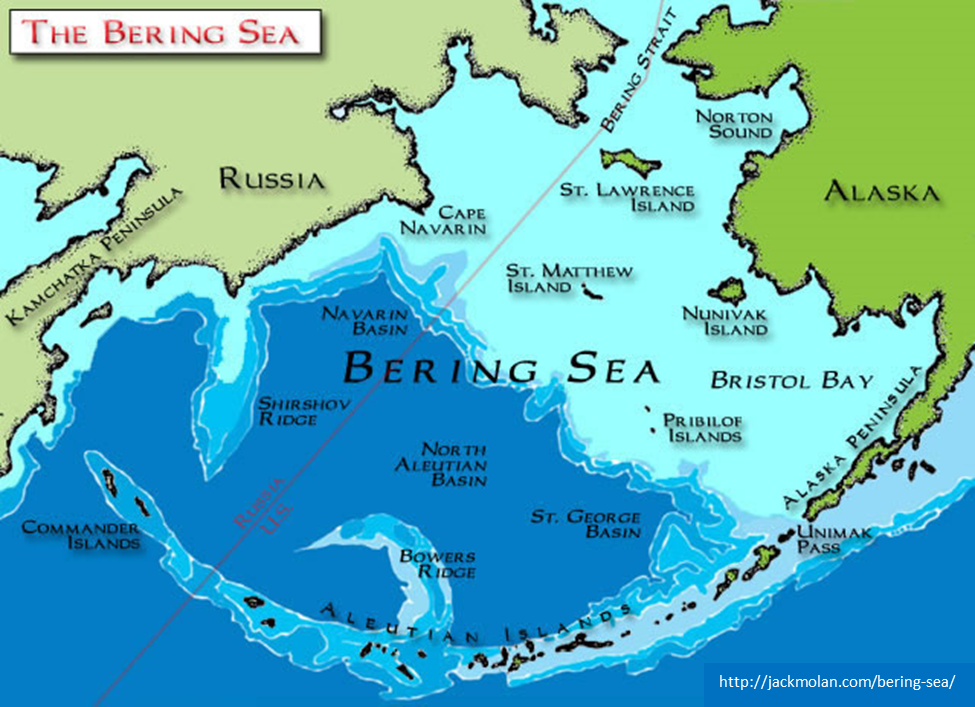 What tools will the research team use?
The team will be using tags similar to those deployed on the Pribilof Islands. Data collected using GPS loggers, video, and accelerometers (recording how birds are moving to determine specific behaviors such as flying, resting, and even eating) will hopefully show us how and where black-legged kittiwakes, thick-billed and common murres, and crested and least auklets find food for themselves and their chicks during the summer. The team will also attach geolocators, like Rachael Orben's team has been using on red-legged kittiwakes, to learn where these five bird species travel when they leave St. Lawrence Island in the fall.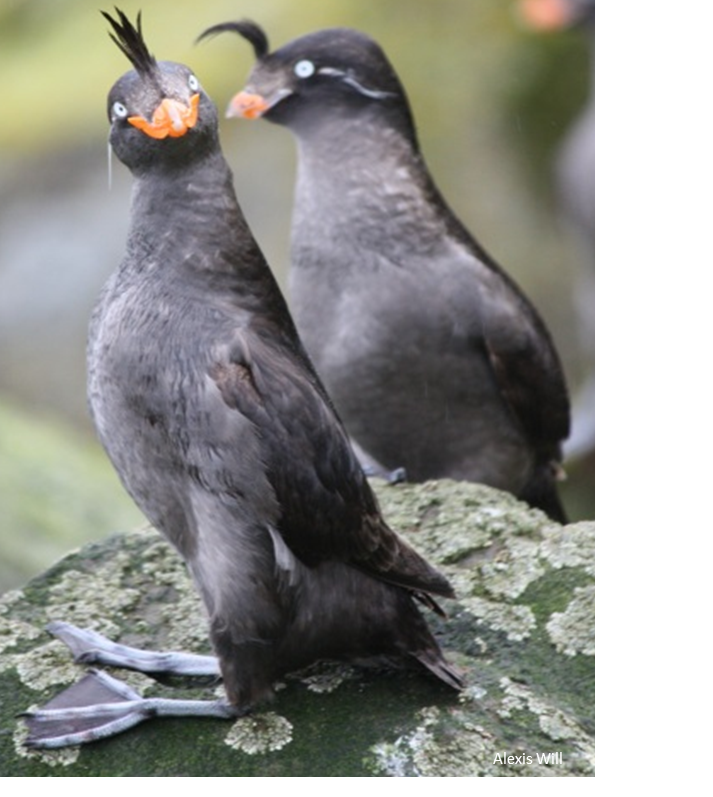 Crested Auklets, by Alexis Will
Dr. Adrian Gall and her colleagues have done boat-based surveys in the northeastern Chukchi Sea since 2008. They found that crested and least auklets are sometimes quite abundant in the region despite having no breeding colonies nearby. For example, in August and September of 2009 they observed 100s of birds per square kilometer in their study area. Maybe this new project will discover that birds from Savoonga fly north in the early fall.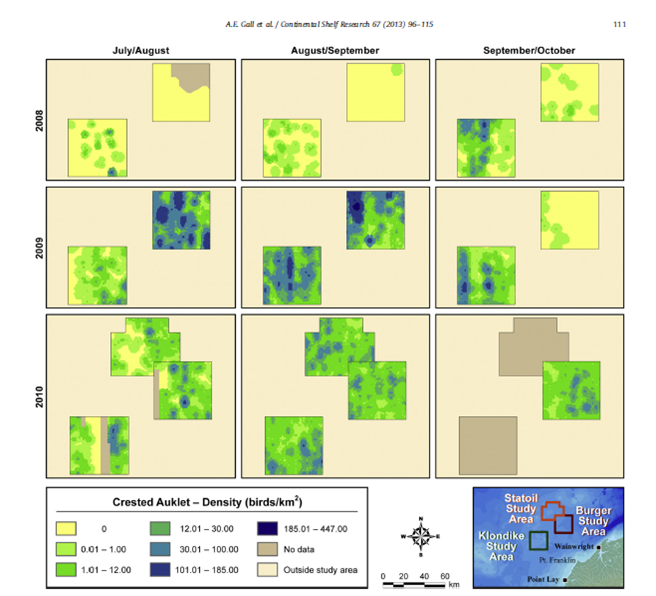 At-sea distribution of Crested Auklets during the Fall, by Adrian Gall et al. 2012
Where do you think Savoonga seabirds go in the winter?